The Keys
Neon. Gellong. 2014.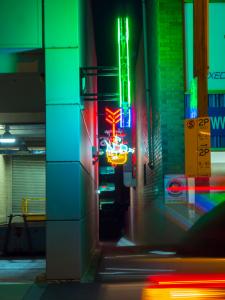 PROJECT | The Keys
LOCATION | On the lands of the Wadawurrung people
Geelong Cressy Place
CLIENT | Geelong Council
Three neons sculptures with kinetic elements. Neon, electronics, kinetic mechanism, steel, paint.
The Keys consists of series of neon signs with kinetic elements that explore Geelong's maritime history and myth. The work looks at the crypto historic phenomena of the so called "Geelong Keys" and associated theories of a mysterious 16th century Portuguese sailing ship that purportedly navigated Corio Bay more than a hundred years before the arrival of the British. The works aesthetic references the seedy back alleys of a working port town. Practically, the neons brings light and public attention to a previously uninviting narrow lane.
Back to top
View all projects